The campground is composed of 170 flat pitches, (around 95m2 – 9mX10m) with clear limitation and electricity.
It is in the heart of a nice grassland with its own direct access to the Annecy Lake.
Open from April till the beginning of October, our team welcomes you to stay in tents, trailers, or RVs.
Our campsite lot has been preserved, it is the ideal location to experience Annecy and the French Alps. A direct access to the Lake is less than 250 meters from our front desk, across a nice grassland with kids playgrounds and volley ball fields.
On our campsite pitch, you can spend just one night or remain on site for several months, it is up to you to decide of your arrival and departures dates.
The 2 axles trailers are not authorized in our campsite.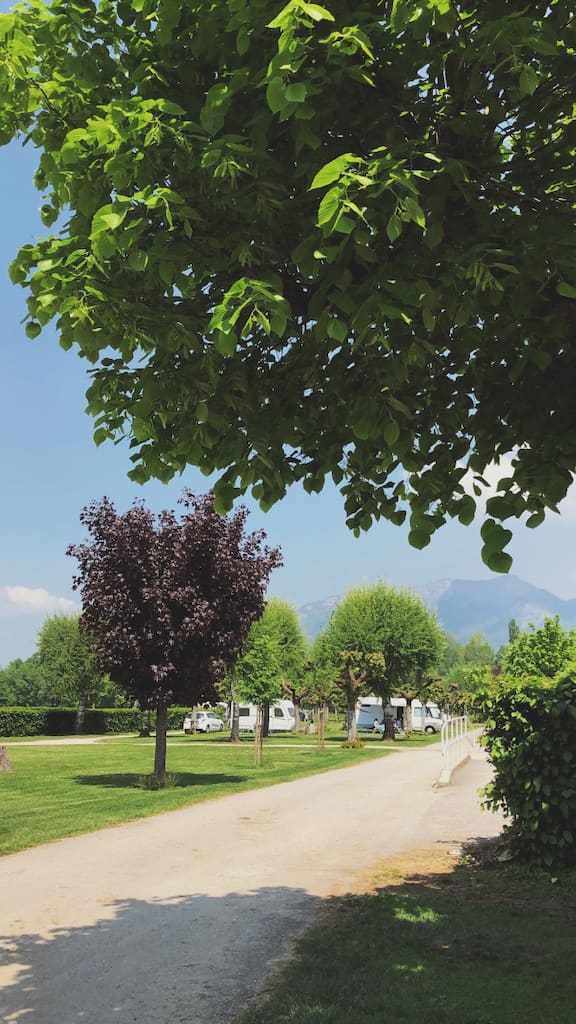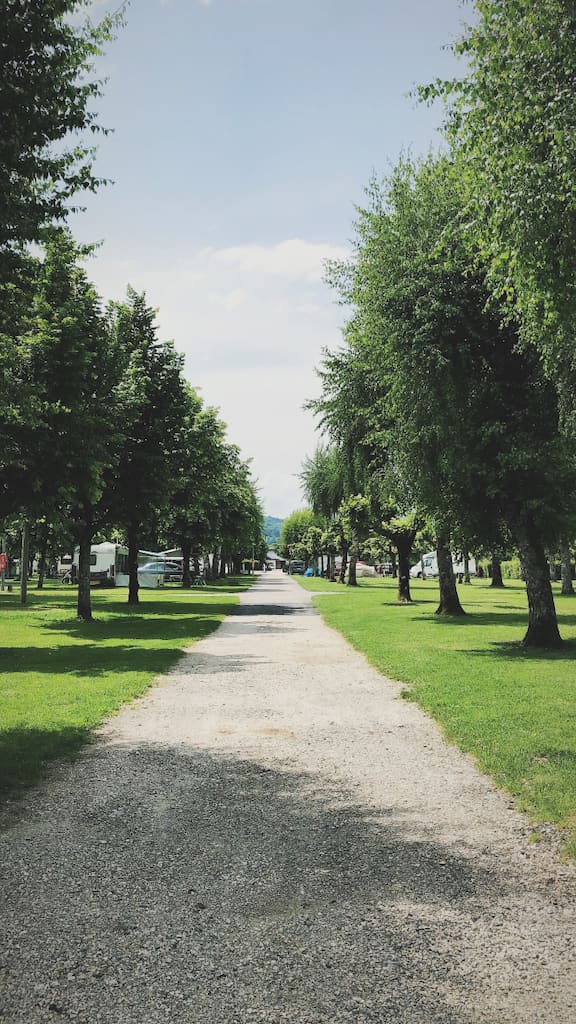 Prices include all taxes – Tourist tax not included (0.55 €/pers + 18 years/night)
Not more than 5 persons on 1 site
| | Set Price 2 persons | additional person | less than 7 years | one dog |
| --- | --- | --- | --- | --- |
| April 5 > June 1 | 25 € | 5,00 € | 3,50 € | 3,00 € |
| June 1 > July 7 | 29 € | 6,00 € | 4,00€ | 4,00 € |
| July 7 > August 28 | 38 € | 8,00 € | 5,00 € | 5,00 € |
| August 28 > September 15 | 29 € | 6,00 € | 4,00 € | 4,00 € |
| September 15 > October 6 | 25 € | 5,00 € | 3,50 € | 3,00 € |
| | |
| --- | --- |
| Electricity | 6.00 € / night |
| Additional car | 4.00 € / night |
| Trailer | 4.00 € / night |
| Fridge hire | 5.00 € / night |
| Booking fees | 10 € (obligatory) |
| Deposit per pitch (obligatory) | 20% of the total amount - (tourist tax and administration costs not included) |
| Cancellation insurance Campez Couvert | 2.7% of the total amount, excluding tourist tax. (optional) |
| | Set Price 2 persons | Additional person | Less than 7 years old | one dog |
| --- | --- | --- | --- | --- |
| April 5 > June 1 | 21 € | 5,00 € | 3,50 € | 3,00 € |
| June 1 > July 7 | 24 € | 6,00 € | 4,00€ | 4,00 € |
| July 7 > August 28 | 32 € | 8,00 € | 5,00 € | 5,00 € |
| August 28 > September 15 | 24 € | 6,00 € | 4,00 € | 4,00 € |
| September 15 > October 6 | 21 € | 5,00 € | 3,50 € | 3,00 € |
| | |
| --- | --- |
| | FREE FOR CHILDREN UNDER 2 YEARS OLD (Born in 2022, 2023 or 2024) |
| Electricity | 6.00 € / night |
| Additional car | 4.00 € / night |
| Trailer | 4.00 € / night |
| Fridge hire | 5.00 € / night |
| Booking fees | 10 € (obligatory) |
| Deposit per pitch (obligatory) | 20% of the total amount - (tourist tax and administration costs not included) |
| Cancellation insurance Campez Couvert | 2.7% of the total amount, excluding tourist tax. (optional) |
Baby kit
BBQ rental
Paddle/kayak rental
Fondue set rental
Raclette service rental
Mountain bike rental
Within the limits of available stocks